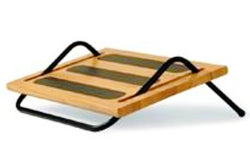 Humanscale
Accessories | Ergonomic Foot Rest (standard)
The FM100, offering a stable yet dynamically adjustable foot support, packs several features into a value-priced package. In addition, the non-skid surface ensures that feet will stay right where you want them – on the foot rest – to relieve pressure on the lower back.
Solid hardwood platform

Powder-coated tubular steel frame
Rubber pads
100% Recyclable
 
Depth 11.75"
Height 3.375"
Width 19"
 
Gazor Group is here to answer any questions and create an effective solution for your business need.
624 Bush St. SF 94108
(By Appointment only)
info@Gazor.com
(415) 291-8300
Thanks!
This field is required
This field is required
This field is required