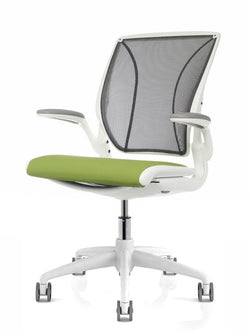 Humanscale
Seating | Chair | Task, Eva
Eva is a new generation of task chairs which offer superior comfort a striking minimal appearance. The Eva chairs need of fewer adjustments allows the chair to make many of the ergonomic adjustments itself so the user can continue to work in supported comfort.
Eva's knitted mesh backrest offers superior comfort from 5 different tension zones. The curvaceous mesh profile of the upper zones provides great back contact, whilst the intuitive lumbar support of the lower zones helps maintain healthy lordosis of the spine, regardless of user weight & stature – with no adjustment necessary.
Gazor Group is here to answer any questions and create an effective solution for your business need.
624 Bush St. SF 94108
(By Appointment only)
info@Gazor.com
(415) 291-8300
Thanks!
This field is required
This field is required
This field is required