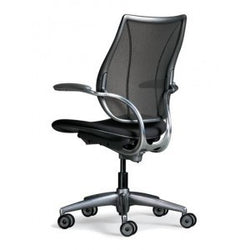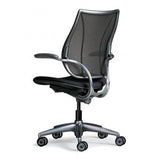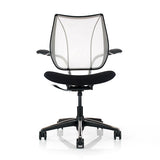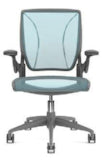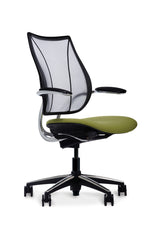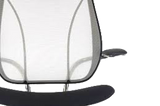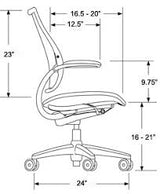 Humanscale
Seating, Office Chair, Liberty Chair
Liberty, with Form-Sensing Mesh Technology, is unlike any mesh chair you've seen or experienced. With its tri-panel construction, Liberty has the body-fitting contours that single-panel stretch mesh chairs simply can't achieve. And it offers perfect lumbar support for everyone, without external devices or manual adjustments.
Self-Adjusting Recline
Intelligent counter-balance recline mechanism automatically

 provides the right amount of support through the full range of

 recline motion, regardless of user size and weight.

No tension springs to adjust
No recline locks to set/release
During recline, the angle between torso and legs opens up for 

better body function.

User maintains near constant eye level during recline
 
Form-Sensing Mesh
Tri-panel, non-stretch mesh construction creates body-fitting

contours and self-adjusting lumbar support for a customized fit

No external lumbar devices to adjust, break or loose
Low-abrasion mesh protects clothing
Modular for easy replacement
 
Dimensions
Depth 25"

Height 38.5 - 43.5"

Weight 27 lb.

Width 26.5"
Gazor Group is here to answer any questions and create an effective solution for your business need.
624 Bush St. SF 94108
(By Appointment only)
info@Gazor.com
(415) 291-8300
Thanks!
This field is required
This field is required
This field is required