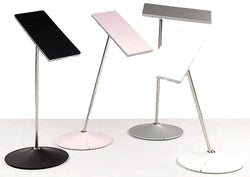 Humanscale
Accessories | Desk Lamp Horizon Light
One of the most interesting and beautiful table lamps in the industry. Horizon is a testament to minimalism and nano technology advances. This uniquely sleek, thin design is one the slimmest on the market. Yet, its robust, the neck joints allow for effortless adjustability and easily accommodate the user's preferences. 
Comes with 10 year warranty.
Suitable for home, office, and hospitality spaces. Horizon's brilliant light throw is the first task light powered by Thin Film LED Technology™ — producing an ultra-wide glare-free beam that is smooth on pixel and paper. Adaptable features such as dimmable brightness become automatically saved after just one use. The high-efficiency nightlight function uses just one (1) watt of electricity! That would imply 5.7 years if the light is operated for 24 hours in a day, 7.6 years if the lights are on 18 hours per day and 11.4 years for 12 hours a day. Recipient of 24 design awards, this special and versatile table lamp earned permanent residence in the Museum of Modern Art (MoMA) collection. It's a statement piece.
Available in Arctic White.
 
Made in USA

Striking, organic aesthetic complements any interior

Produces ultra-wide beam of glare-free 3000K (warm white) light

Seven levels of adjustable illumination increase the light's energy efficiency and ergonomic function

Nightlight feature operates at just one watt

Soft start and adjustment is easy on the eyes whether you're working on the computer or reading a book.
Features:
• Pioneering LED Task Lighting: Horizon is the first task light to use Thin Film LED Technology. The result is an ultra-thin profile that produces a wide beam of warm, 3000K glare-free 80 CRI white light.
• Intuitive Functionality: Not only is Horizon among the most minimal LED task lights available, its unique spherical joints allow for easy adjustability. Horizon is dimmable at the touch of a hand for increased efficiency and ergonomic lighting.
• Minimal Design, Maximum Efficiency: Horizon's single light source only casts one shadow and features a high-efficiency nightlight function that uses just one watt of electricity. The entire head of Horizon is made of die cast aluminum, serving as a heat sink to maximize LED longevity and ensure a 50,000 hour rated life.
• Design Story: A collaboration between designers Peter Stathis and Michael McCoy in 2009, Horizon has won 17 design awards to date. Uniting Platonic minimalism and organic design, Horizon is defined by both technical sophistication and a striking form.
Recommended Uses:
Living rooms
Hotel rooms
Conference rooms and meeting areas
Of ce workspaces Home of ces Bedrooms Waiting areas
Gazor Group is here to answer any questions and create an effective solution for your business need.
624 Bush St. SF 94108
(By Appointment only)
info@Gazor.com
(415) 291-8300
Thanks!
This field is required
This field is required
This field is required