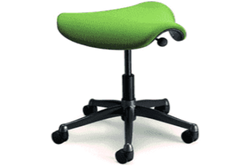 Humanscale
Seating | Saddle Task Stool
The Saddle seat, part of Humanscale's award winning Freedom seating line is the most comfortable and versatile stool ever made. Its unique, triangular cushion, encourages users to sit in a "saddle" posture, which lowers the thighs, opens up the hips and puts the spine into a healthy lordotic curve.
Available in Black, Blue, Green
Gazor Group is here to answer any questions and create an effective solution for your business need.
624 Bush St. SF 94108
(By Appointment only)
info@Gazor.com
(415) 291-8300
Thanks!
This field is required
This field is required
This field is required