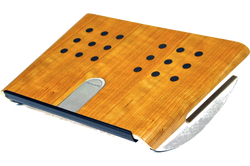 Humanscale
Accessories | Ergonomic Foot Rest (top-range)
The FM500 provides perfect support for the feet and legs to ease pressures on the lower back when sitting. With curved supports to encourage healthful rocking, the FM500 offers a surprising amount of functionality in a simple and elegant package.
Available in Cherry & Black
More details:
Curved leg design encourages rocking motion

Provides support for lower back
Rubber, non-skid grips keep feet in place and protect hard flooring
99% recyclable
Die-cast aluminum legs
Gazor Group is here to answer any questions and create an effective solution for your business need.
624 Bush St. SF 94108
(By Appointment only)
info@Gazor.com
(415) 291-8300
Thanks!
This field is required
This field is required
This field is required