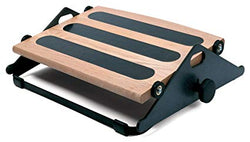 Humanscale
Accessories | Ergonomic Foot Rest (mid-range)
The FM300, with its ball bearing rollers, encourage gentle rocking of the feet in the same way a rocking chair encourages movement. This rocking motion uses most of the lower leg muscles to increase healthful circulation. The FM300B offers built-in massage balls to rejuvenate tired feet. In addition, both offer 3-inch height adjustment for custom positioning.
More Info:
Ball-bearing rollers encourage rocking motion

3" height adjustment
Non-skid, inset pads
Rubber feet protect flooring
Steel frame
Plastic knobs
Depth 11.875"

Height 3.75" - 6.75"

Width 16"
Gazor Group is here to answer any questions and create an effective solution for your business need.
624 Bush St. SF 94108
(By Appointment only)
info@Gazor.com
(415) 291-8300
Thanks!
This field is required
This field is required
This field is required