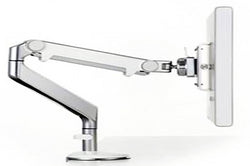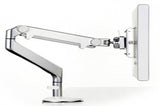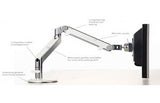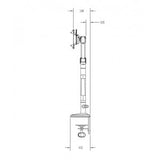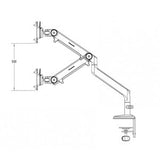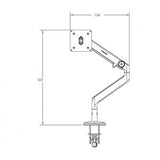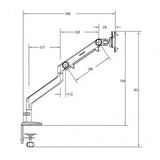 Humanscale
Accessories | Desk Monitor Arm | White, Bracket
Offering all the benefits of a traditional dynamic monitor arm the M2 redefines high-performance monitor arms. Current-generation monitor arms utilize a bulky, failure-prone gas cylinder to support the weight of the monitor. The M2 instead uses an innovative mechanical spring to achieve exceptional performance and durability in a lightweight, ultra-thin design.
Design
The M2 is thinner, lighter and easier to maneuver than any current-generation monitor arm, and its sleek aesthetic complements the thin profiles of today's flat panel monitors.
Durability
With no gas cylinder and fewer parts than current-generation arms, less can go wrong with the M2 over time. As a result, it's backed by an industry-best 15-year 24/7 warranty.
Performance
Designed to support 95% of the monitors in use today and offering effortless adjustment of both height and depth, the M2 will accommodate virtually every application for single monitors.
 
Gazor Group is here to answer any questions and create an effective solution for your business need.
624 Bush St. SF 94108
(By Appointment only)
info@Gazor.com
(415) 291-8300
Thanks!
This field is required
This field is required
This field is required